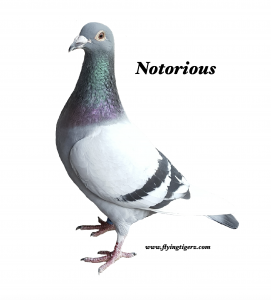 Pachinko X Sweet Revenge breeding. Notorious placed eq1st (3rd) at the 350 mile station and 6th Average Speed winning $1350 in 2015 at Flying Aces OLR. This bird couldnt handle any better.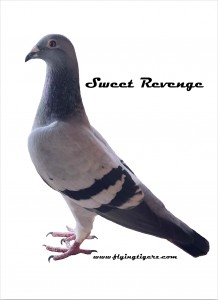 What a bird Sweet Revenge is! Flying Tigerz flew her in the 2013 YB season. She did mediocre, but it was an odd season with a mix of smash and fast races, so it was hard to gauge her ability. A lot of birds didn't finish that season, but she did and was always in just behind the front of the pack. Almost immediately after young bird season is when the theft occurred in 2013 so she was stolen along with her parents and the rest of the birds.  About a year later, I look out on the landing board and there is a beautiful blue bar hen that is unbanded. One of the joys of owning a small loft is that I immediately knew which bird she was, even though the thieves had cut her identification band off. Unfortunately, however, I was still devastated by the loss and did not start keeping birds again yet, so I gave her to a friend to hold on to. Shortly after I transferred her to his loft, all of his birds were stolen. What  a way to live her life, stolen twice, I thought. Give it another year (2015-two years after the theft) and I look out at the landing board which were followed by a few slaps to my face to make sure I wasn't dreaming of the past. Sure enough, the same beautiful unbanded blue bar hen was waiting for me to open the trap door. By this time, I had updated loft security and started acquiring new stock for the 2016 breeding season. With the heart and determination she showed me, along with the way she handled and great feather quality, I decided to try her in my breeding program. Well, all I can say is that it paid off. Every bird she produces feels like gold, looks likes like a diamond and flys like falcon. Dam to:
=1st (3rd place) at Flying Aces One Loft Race at the 350 miles station winning $1350
21st (25 day birds) at Fast Eddies Late Hatch OLR at the 400 mile station winning $1000
=1st (3rd place) at Flying Aces One Loft Race at the 250 mile station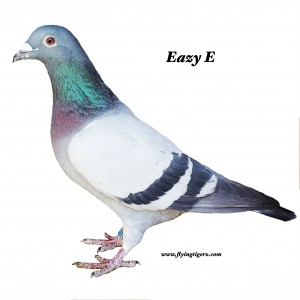 Eazy E has all the assets to be a winner, and ideal body type, wing and tons of ambition. He took 21st (25 day birds) in an extremely tough 400 mile Fast Eddies Late Hatch Classic race. Eazy E snuck into the money winning $1000.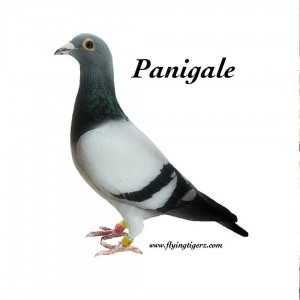 Panigale is a great handling (and looking) hen that is a half brother to another of our breeders, Old Glory. 2017 will be her first year in the breeding program and she will be paired to a direct son (and money winner) of Pachinko. She goes back three times to the Super Mario x Aske pairing as well as one time to the Konig x Konigin pairing of Andreas Drapa. Grand Dam to:
=1st (3rd place) at the Oregon State OLR at the 268 mile station winning $1484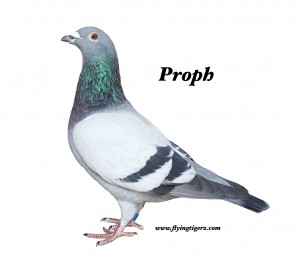 When this cock was banded with the same number as his great-great grandfather, who was a foundation breeder, we knew it was a divine message and only then did he receive his name Proph. He is the only bird in my breeding program bred for stock, simply because bloodline and body wise . . . he has everything. He is the last son of my foundation cock Pachinko and I hope he produces just as well as his father did.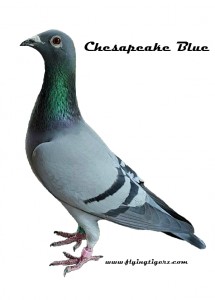 Chesapeake Blue is a small sized  apple body hen that is 100% Creator blood. As a racer she placed 6th at the 200 mile mark flying in Virginia. 2015 was her first year breeding and right away she produced AU 15 VIK 1214 which was the 3rd champion bird of the entire Twin City Concourse (flown by Dan Feltenstein) and 2015 VIK 1215: 8th champion yearling bird and 3rd place at 400 miles (6 day birds) in the 2016 Banks of Wabash Challenge. Dam to:
3rd Champion Bird of the Twin City Concourse 2015
3rd (6 day birds) at the Banks of Wabash Challenge 400 mile station 2016
8th Champion Yearling Bird at the Banks of Wabash Challenge 2016
=1st (9th place) at the Flying Aces One Loft Race 350 mile station 2016
Very excited to add Straight Faded to the breeding program here at Flying Tigerz. I typically focus on middle distance pigeons, but with the increasingly tough races, I thought it was time to pick up something on the longer end. Straight Faded is a perfect representation of the latter, a well balanced bird with lean muscle typical of the long distance racers. He is an AU Marathon Ace Pigeon and has done his share of winning 500-600+ mile races. Not only did he race well, but he has sired many winners at the distance. His youngsters especially perform well at the 521 mile mark in Utah where I acquired him from. His blood lines consist of distance strains with many Minnesota lofts in his pedigree, especially Tom Langenberger and Harold Belka. Straight Faded left his mark in Utah, but it was nice to be able to bring him back to his origins here in Minnesota. We will see what he can do for us!
AU Marathon Ace Pigeon 2011
3rd vs 70 at 600 miles
8th vs 73 at 521 miles
21st vs 306 at 500 miles
Sire and Grandsire to:
1st at 521miles
4th at 521 miles
6th at 521 miles
__________________________________________
Below we pay tribute to stolen/retired breeders:
__________________________________________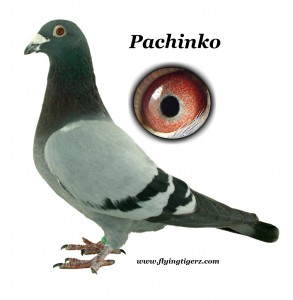 Pachinko is a nice medium size bird that handles like a champ. His pedigree goes back three times to the infamous Super Mario / Aske pairing of Barry Yu, and one time to a Hollywood / Breeders Best pairing. Many of his youngsters are throwbacks to the Herbots Brothers Super Mario, and fly extremely well. Pachinko himself raced in the Winners Cup One Loft Race and flew consistently placing 17th at 350 miles and 19th at 400 miles. Pachinko is proven as a breeder and is sire to:
=1st in the High Desert Yearling Classic One Loft Race at the 300 mile station
=1st (3rd place) at Flying Aces One Loft Race at the 350 miles station winning $1350
21st (25 day birds) at Fast Eddies Late Hatch OLR at the 400 mile station winning $1000
=1st (3rd place) at Flying Aces One Loft Race at the 250 mile station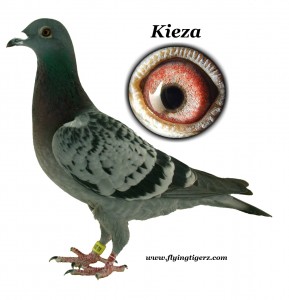 Kieza is a great medium size hen that placed 3rd overall in points and 3rd overall average speed for the Flying Aces One Loft race series consisting of four races (150, 200, 300 & 350 miles). She was =1st on the 200, 300 and 350 mile stations, as well as first bird on the second drop for the short 150 mile station. Kieza flew away with $2,516 for the 2014 series. She handles like a dream and her feather quality is impeccable. Unfortunately the sire and dam to Kieza were stolen from me, so she will be given the opportunity to breed for Flying Tigerz.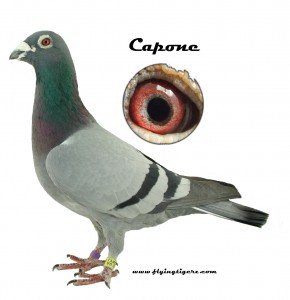 Capone is bred just the way I like them, Creator / Phantom on the top side and Aarden / Herbots distance birds on the bottom side. This cross proved very well at the Mercedes Classic OLR where Capone placed in the money twice winning $4,075 taking 63rd @ 300 miles and 1st @ 400 miles. Capone comes from a line of OLR winners, his sire won =1st on BOTH 300's it flew in the Texas Gusher OLR. Not only does Capone handle and race beautifully, but he has also proven himself in the breeding pen. Capone will be paired with Chesapeake Blue for the 2016 season. Sire to:
=1st (9th place) at the Flying Aces One Loft Race 350 mile station 2016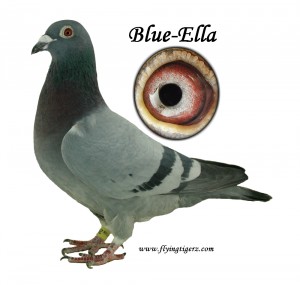 Blue-Ella is a medium size hen that puts on weight very quickly. I really like the latter trait, especially in hens, as they will hold their weight through the breeding season while feeding their young. Blue-Ella handles a lot like Pachinko and happens to be very similarly bred. The top side goes back to the Super Mario / Aske pairing of Barry Yu while the bottom side goes back to Phantom and a Danny Hutchins one-loft winner. Blue-Ella is a proven breeder in the club races producing multiple top 5% birds.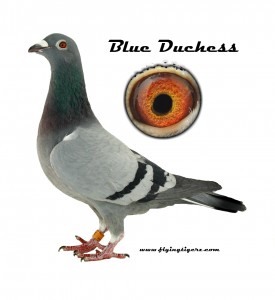 Blue Duchess is one of those hens that handles beautifully and breeds just as well as she looks. She has bred a money winner in the GHC as well as an =1st (2nd) at 250 miles in the Oklahoma Twister winning $1,092. Blue Duchess also has an impressive pedigree, the sire is a direct son of Aviator and the dam is a half sister to Aviator.
Blue Swag is all Wout Spierings! Both sire and dam of Blue Swag are 100% made up of "The Natural" and "Creator."  Blue Swag himself is a double grandson of  The Natural (Creators sire), while at the same time a great and great-great grandson of Creator. Confusing?  Well, The Natural on the top side was bred back to his grand-daughter( daughter of Creator). On the bottom side The Natural is bred back to his great-grand-daughter (grand-daughter of Creator). This will be Blue Swags first time breeding for me, and with his pedigree, I am confident he will produce!!!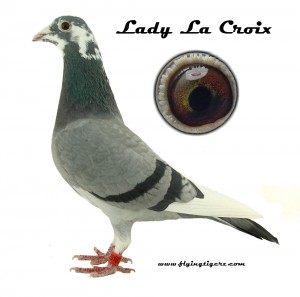 Lady La Croix is the "Heinz 57" bird of the group. She goes back to four super stars including Aviator, Hollywood, Super Champ and Mr. Aristona. She was gifted to us from a friend after our birds were stolen, and she is a great mother with some great looking youngsters!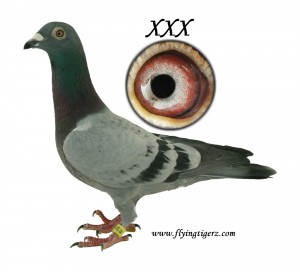 Triple X (XXX) was a late hatch bird bred for stock and gifted to me from a close friend. He is unproven in the air and in the breeding pen, but consists of a line of birds that have flown very well for me. For the 2015 season he will be inbred to his sister (Kieza) because the parents of Triple X and Kieza were stolen from me. This bloodline is potent, and I am confident he will produce winners for me.